Background of Banmaw diocese:
On August 28, 2006 Pope Benedict XVI created Diocese of Banmaw and appointed Msgr.Raymond Sumlut Gam as the first Bishop of the Diocese. On Nov.17,2006 the new Diocese was blessed and on the 18th Nov,2006 the new Bishop of Ban maw Msgr.Raymond Sumlut Gam was ordained and enthroned by His Grace Archbishop Salvatore Pennacchio, the Apostolate Delegate to Myanmar.
As Banmaw has been immediately promoted to a new Diocese and a new Bishop has been very immediately installed the 11 existing priests were being very strongly challenged with many responsibilities. The very first move of the bishop was the establishment of Diocesan Curia which will take care of the pastoral affaires and the establishment of Caritas Banmaw to take care of all the social development affairs.
Banmaw diocesan Curia office has been entrusted to Rev.Fr. Stephen Lau Mun    ( VG ) and I, Fr. Paul Lahpai Awng Dang, has been appointed as a director of Caritas Banmaw.
Within the six months of the establishment of Banmaw diocese Diocesan Curia office and Caritas Banmaw office the two offices working hand in hand for the pastoral affairs and social affairs. Caritas Banmaw office was opened on 18th April,2007 with 3 appointed staffs and 3 volunteers. For the establishment of the Caritas Banmaw office the caritas Myitkyina office has contributed 1,500,000 Kyats= US$ 1200 and with that financial assistance we have bought some chairs and repaired the office for the urgent start of its work.  
Location of the Banmaw Diocese.
Banmaw Diocese is located northern in the eastern part of Myanmar country and south-eastern part of Kachin state. It is linked to China Border on the east, the Mandalay Myitkyina Railway on the West, to the North Myitkyina diocese and to the South is Lashio diocese and Mandalay diocese.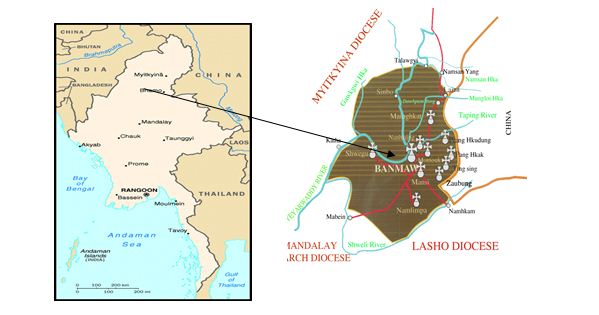 The greater part of the diocese is mountainous area with communication difficult. The Ayeyarwaddy, the main river of the country flows through the western part of the region, north to south providing water resources and means of transport and irrigation.
The Banmaw District Comprises of four townships, namely Banmaw,Momauk,Mansi and Swagu. The whole area covers around 75900quare miles(150,000 Km)at the altitude of 370 feet (1530 m) above sea level.
DESCRIPTION KMSS
Karuna Myanmar Social Services (KMSS-Banmaw) is a faith based social network at the service of the Catholic Church.  Inspired by the Catholic Social Teaching Principle of "Option for the Poor," KMSS is established and mandated by the Bishop Raymond Sumlut Gam, Bishop of Banmaw Diocese as its social arm to serve the poor and the needy.   The specific areas of the Church's mission give attention to holistic human development, realization of Justice and Peace, environmental protection, humanitarian assistance and emergency relief services.